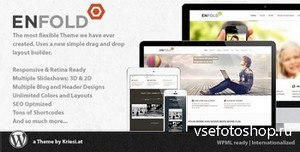 ThemeForest - Enfold v2.2 - Responsive Multi-Purpose Theme | 13,3 MB
Update: Version 2.2 Out Now! Adds new Languages, Template Builder/Revision compatibility and other improvements! Check the changelog at the bottom of this page ;)
Enfold is a clean, super flexible and fully responsive WordPress Theme (try resizing your browser), suited for business websites, shop websites, and users who want to showcase their work on a neat portfolio site. The Theme is built on top of the fabulous Avia Framework and offers support for the WPML MULTI LANGUAGE plugin, just in case you need it ;)
It comes with a plethora of options so you can modify layout, styling, colors and fonts directly from within the backend. Build your own clean skin or use one of 18 predefined skins right out from your WordPress Admin Panel. Font, background and color options as well as the dynamic template builder will help you create the Website you need in no time. In addition to the global options you can set unqiue styling options for each entry as seen in the theme demo
Просмотров: 489 |

Комментариев: 0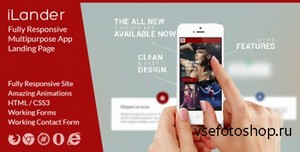 ThemeForest - iLander - Responsive Multipurpose App Landing Page - RIP | 3,58 MB
iLander is the ultimate and professional way for you to present your portfolio or the very best starting point for your own corporate website. If you are searching something different and out of the line, please check out the iLander - Responsive Multipurpose App Landing Page Template!
iLander is fully responsive - resize your browser window to see it in action. All the layouts are built with responsive design in mind. It works well on desktops, tablets, and mobile devices. The template is perfectly adapted to various screen sizes, and its attractive fresh design makes it look great.
iLander is a fully configurable and easy to use HTML website landing template with a lot of great features. It has been specifically designed to be easily customized and it's created by using the latest HTML5 and CSS3 techniques. With a responsive design it is easily usable with any device!
If you are searching something different and out of the line, please check out the iLander - Responsive Multipurpose App Landing Page Template
Просмотров: 461 |

Комментариев: 0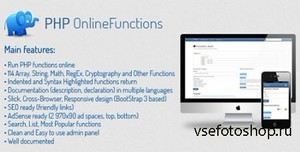 CodeCanyon - "PHPOF" - Online PHP Functions - RIP | 1,64 MB
PHPOF - Online PHP Functions it's a PHP script designed as a help tool for developers but also a learning environment for people that want to learn PHP. The script has 114 online functions, categorized in Array, String Math, Time&date, RegEx, Cryptography and Other Functions. Every function page is split in two sections: The function tester and the Documentation section. In the Function tester area, the user fills the fields, submits the data, and in return, he will get the result of the function that he has executed. The return it's PHP formatted and syntax Highlighted. The Documentation area features functions description, declaration method, PHP versions that is available on and a link to the official php.net documentation. The documentation can be available in multiple languages, you choose which ones you want, from the admin panel.
Просмотров: 495 |

Комментариев: 0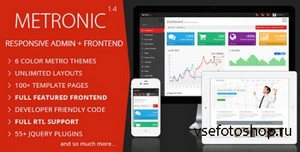 ThemeForest - Metronic v1.4 - Responsive Admin Dashboard Template | 121 MB
Metronic is a responsive and multipurpose admin and frontend theme powered with Twitter Bootstrap Framework. Metronic can be used for any type of web applications: custom admin panels, admin dashboards, CMS, CRM, SAAS and websites: business, corporate, portfolio, blog. Metronic has a sleek, clean and intuitive metro style design which makes your next project look awesome and yet user friendly. Metronic has a huge collection of plugins and UI components and works seamlessly on all major web browsers, tablets and phones.
Просмотров: 621 |

Комментариев: 0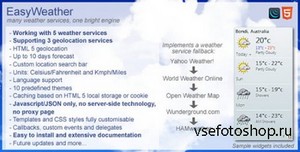 CodeCanyon - EasyWeather - The Weather Engine - RIP | 170 KB
EasyWeather 1.0 is a lightweight and versatile jQuery plugin displaying weather information for any location. Its compact size and numerous options make it perfectly suitable for providing local weather information in portals, websites, blogs and apps.
Просмотров: 413 |

Комментариев: 0
Просмотров: 581 |

Комментариев: 0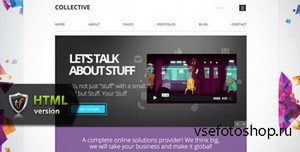 ThemeForest - Collective - Professional HTML Theme - RIP | 7,18 MB
This professional HTML theme was created with a more general, "all-purpose kind of theme" approach in mid. It comes with every feature you might need to make your website stand out of the crowd.
The logos or other images that we don't have rights to redistribute and you see them on our live preview are not included in the archive.
IMPORTANT: Support is offered exclusively on our Dedicated Support Forum not here in the comments section. We do however answer pre sale questions in the comments so feel free to ask them.
Просмотров: 401 |

Комментариев: 0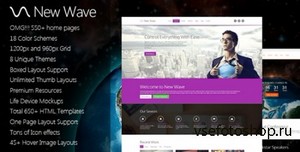 ThemeForest - New Wave - 8 in 1 Massive Multipurpose Template - RIP | 40,8 MB
New Wave is one of the most advanced templates in the whole marketplace. You got wide and boxed layouts, 960px and 1200px grid, background images and patterns support, smart mask layers, tons of icons effects, unlimited thumbnails and much much more. Everything enchanced with Twitter Bootstrap framework and smart CSS3 and HTML5 layout.
Просмотров: 415 |

Комментариев: 0
Просмотров: 499 |

Комментариев: 0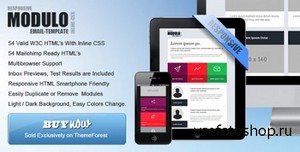 ThemeForest - Modulo - Modern And Modular Responsive Email - RIP
'Modulo' provides an ultra modern innovative flat design concept. It has been tested on every major email client and Inline CSS used for a full cross browser compatibility. Html's are lightweight, commented and modular which makes the job of duplicate or hide modules very easy.
Просмотров: 505 |

Комментариев: 0