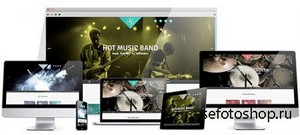 HotJoomlaTemplates - HOT Music Band - Joomla 2.5 & 3.1 Template | 13,7 MB
This is responsive Joomla template for websites for music bands. It probably has all the features that every music band template should have. There's a large image carousel on the home page that can be used for the best shots of the band. This is followed by the blog section (powered by K2 component) which organizes news items in several tabs (powered by jQuery UI). Scroll down and you will find the band's tour events organized in tables that represents years (can be changed to months of whatever else). The table contains the most important information about each tour event. There's also ticket ordering form that you can integrate with PayPal to sell online tickets.
One more step lower, the visitor is served with samples of the band's music which can be streamed online (powered by HTML5 in all modern browsers). Each song has been connected with links for buying the band's songs online via iTunes or similar service.
There's no better way to promote a music band's events than showing some great pictures and video clips (served by YouTube or Vimeo). This is the next step in the long home page of Hot Music Band template. It's also divided in two tabs (Pics and Video) which are also divided in several sub-tabs. This allows the website owners to post much more images and video clips in the same place.
The bottom part of this template is reserved for interaction with music band's fans. Visitors of the band's website can send an email through the integrated contact form (powered by Rapid Contact module). Finally, for the communication with fans through social networks, there are several buttons designed and connected to the most important social networks for this industry (unavoidable Facebook and Twitter, and more...).