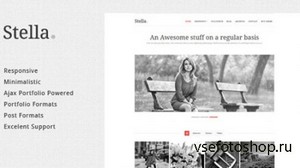 Mojo-Themes - Stella v1.1 - Responsive WordPress Portfolio Theme | 25,6 MB
Stella is a simple responsive portfolio theme, clean-cut, ajax-powered portfolio, that will emphasize your awesome works-straight to the point. Suited for users who want to showcase their work on a neat portfolio site.
Support for post formats means you can jazz up your blog with video, images, galleries, quotes and standard posts.
Просмотров: 522 |

Комментариев: 0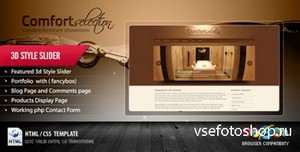 ThemeForest - Comfort Selection Furniture HTML Template - FULL | 9,91 MB
This html is a valid xhtml 1.0 transitional is best suitable for a shopping or furniture relate websites. This comes with predefined classes for common elements needed in website. For the most part you can just follow guidelines in this or see table of contents..
Просмотров: 467 |

Комментариев: 0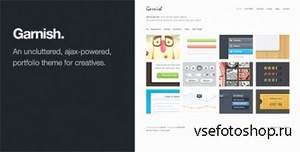 ThemeForest - Garnish v1.4 - Clean-Cut WordPress Portfolio Theme | 16,1 MB
Garnish is a clean-cut, straight to the point, simple to use portfolio theme. The uncluttered, one-page, ajax-powered portfolio is perfect for placing your most important work directly in front of your potential clients.
If you have ever used a "coming soon" page in place of your portfolio on account of being too busy, Garnish is for you. It's simple, convenient and to the point. If you're the modifying type, it's a pretty decent blank canvas too!
Support for post formats means you can jazz up your blog with your own self-hosted video, audio, images, galleries, asides, links, quotes and of course good old standard posts.
Просмотров: 492 |

Комментариев: 0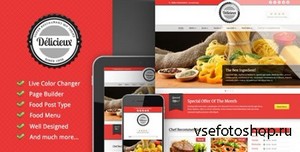 ThemeForest - Delicieux v1.05 - Restaurant Wordpress Theme | 17,9 MB
Delicieux is a super premium theme for retail/restaurant. It comes with very nice and friendly design. This is exactly restaurant website should be. This theme also comes with super extensive admin panel. It has tons of features. You can change almost every element colour via admin panel, more over, you can also change it via Live Color Changer!
Просмотров: 545 |

Комментариев: 0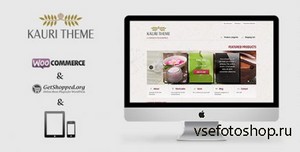 ThemeForest - Kauri v2.0.2 - responsive theme for WP e-Commerce | 8,65 MB
Responsive layout makes it adaptable to various screen sizes, from iPhones, smartphones and tablets to laptop and desktop computers. This theme will look great on any screen. The elegant design of Kauri Theme is customizable with plenty of design options and shortcodes. Choose between 4 skins and customize it with unlimited color options, Google fonts, custom backgrounds and 2 slider styles.
Просмотров: 504 |

Комментариев: 0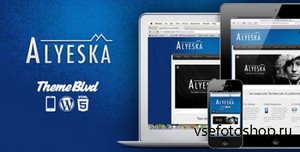 ThemeForest - Alyeska v3.0.2 - Responsive WordPress Theme | 56,1 MB
Elegance. Flexibility. Awesomeness. These are the words that instantly come to mind when trying describe this amazing WordPress theme. This is the theme that's going to get you or your client's site up and running in no time. With all of the possible combinations of layout options, you're sure to end up with a unique, elegant website that you can be proud of. Nothing has been held back with this one. It has all the professional touches you'd require in a WordPress theme along all the personal ones, as well - I've even named this theme after the mountain I grew up shredding as a kid in Alaska. It's professional. It's personal. It's the best. This is Alyeska.
Просмотров: 432 |

Комментариев: 0
Просмотров: 568 |

Комментариев: 0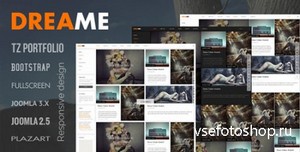 TemPlaza - Dreame v1.5 - Responsive Joomla Template | 35,4 MB
You are building a website in portfolio, news or a website for your passion in photography. You spend much time looking for a nice template which can make your site magnificent but you fail. You have ever dreamed one day you find out a template as you want. DREAME certainly makes your dream come true.
Templaza is very proud of developing a wonderful responsive Joomla template which adapts automatically on all devices. With spectacular interface and images, the template certainly creates a strong impression for users.
Просмотров: 513 |

Комментариев: 0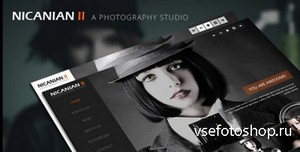 TemPlaza - Nicanian II v2.1 for Joomla 2.5 & 3.x | 33,0 MB
As a continuation of the first released Nicanian with Joomla 2.5. Nicanian II is continued to be improved based on the the idea of a photography studio. For the first time, it is introduced as a responsive Joomla template with TZ Portfolio v3 and T3 Framework v3, integrating well with Joomla 3 and Bootstrap.
Nicanian II continues with Image full screen style enhanced by video full screen. In addition, the system supports Bootstrap on Joomla 3 which is familiar to many search engines.
Nicanian II, a responsive template running on T3 Framework v3 with TZ Portfolio and TZ Guestbook. It adapts easily to every device such as smart phones, tablets, etc.
Come join us today to experience a vivid space of image with Nicanian II.
Просмотров: 680 |

Комментариев: 0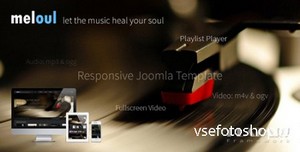 TemPlaza - Meloul v1.5 - Music Responsive Joomla Template | 69,2 MB
You are a music lover. You want to store and share all your favorite songs and videos to everyone. Meloul is a perfect choice. The idea of a music studio inspired us to design a very first music template.
With Meloul, you can upload music products like audio (example: mp3, wav, ogg) and video (example: mp4, ogv, flv, m4v).
Meloul intergrates well with Bootstrap, and support best with HTML5 & CSS3.
You can also create album which displaying playlist powered by jPlayer. Meloul runs on Plazart Framework and compatible with Joomla 3.0.
Meloul is a responsive joomla template which can adapt automatically to the screen size of all devices lets you easily use on smart phones or tablets.
Come and join us today to try a perfect music template. Meloul - let the music heal your soul!
Просмотров: 554 |

Комментариев: 0